One of the questions we get asked most often is: "Do you refill Ecover". So much so, it's prompted me to put pen to paper.
It's funny, running Bovey Larder, we're in this plastic-free, zero-waste world pretty much 24 hours a day, seven days a week. And so, we fall into the trap of thinking that everyone is as up to date with all things 'eco' as well. So, sometimes it's a surprise when we tell visitors about Ecover.
Bear with me on this….
Once upon a time, there was a gap in the market for natural, environmentally friendly cleaning products that didn't damage waterways. So, in Belgium, in 1979, Ecover was born. They did wonderful things and built a very large and very, very loyal customer base for their environmentally friendly cleaning products – brilliant.
Now, fast forward 38 years to 2017 – S C Johnson bought Ecover.
What a fantastic opportunity, right? – spread out the Ecover credentials across a huge, American group making products like: Raid pest control, Toilet Duck, Mr Muscle, Pledge furniture polish, Ziploc bags and Kiwi shoe polish.
But unfortunately, that hasn't happened. Instead, it turns out, SC Johnson didn't buy into the ethics and environmental credentials of Ecover, they simply bought the products and the revenue with some added greenwashing benefits. What a shame! What a missed opportunity!
Greenwashing? Surely not!  Have a look: Ecover has its own stand-alone website, with absolutely no SC Johnson branding anywhere. Raid pesticides, Duck toilet products and Mr Muscle also have their own sites, but these have SC Johnson branding very visible. Funny that, isn't it?
As a result, a huge number of those loyal Ecover consumers continue to buy Ecover products without questioning the company's credentials – they're still buying eco-friendly products, from an eco-friendly company, just as they always have.
So, should people keep buying Ecover, sponsoring executives and shareholders of a company valued at more than £360 billion and shoring up the terrible credentials of other brands? We don't think so. Especially as we're often significantly cheaper!
It's not all bad news. There are pockets of resistance. Locally, people are slowly changing away from Ecover. For us, there's nothing quite so satisfying as refilling Ecover bottles with Miniml or Elmkind products! Come, join us!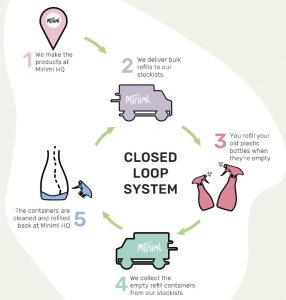 Miniml versus Ecover – A Comparison
 
Miniml

(UK-wide)

Ecover

(US multi-billion Dollar conglomerate)

System
Zero packaging. Circular system means no new packaging is used. Only bulk delivery materials, e.g. boxes, pallet wrapping
Non-circular system – retailers' boxes and their internal bags are waste. No refill station in Bovey Tracey; the nearest is in Chudleigh or Newton Abbot (NB many of the stockists listed on the Ecover site no longer stock it)
Laundry Liquid
Price: £4.30 / litre (19/Aug/22)
£6.33 / litre, (1,500ml Sainsbury's online, 19/Aug/22)

£4.33 / litre, (1,500ml Tesco OFFER, Jul/22)

£6.00 / litre, (1,000ml Tesco, Jul/22)

Fabric Softener
Price: £3.00 / litre (19/Aug/22)
£3.33 / litre, (750ml Sainsbury's online, 19/Aug/2022)
Multi-Surface Cleaner
Price: £4.00 / litre (19/Aug/22)
£5.00 / litre, (500ml Sainsbury's online, 19/Aug/22)
Washing Up Liquid
Price: £3.00 / litre (19/Aug/22)
£4.00 / litre, (450ml Sainsbury's online, 19/Aug/22)
Additional Reading
Ethical Consumer, 10 ethical brands owned by unethical companies, 05/Aug/2022
https://www.ethicalconsumer.org/ethical-shopping-guide/10-ethical-brands-owned-unethical-companies?utm_source=facebook&utm_medium=social&utm_campaign=10_ethical_brands&fbclid=IwAR1V42RQHnkDC0ptiHng4kXx6VKja4jTss62vguIcNCX2DXIu1v1gj8ZviA