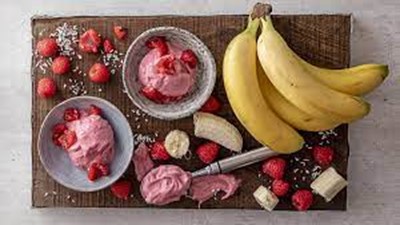 Banana and Raspberry Ice Cream and Coconut Cream
Overview
My children love ice cream sundaes and freakshakes. I wanted to make a healthier, raw dessert that still felt like a treat. The frozen banana and raspberry ice-cream has no added sugar and is creamy and satisfying.
Top Tip
The raspberries are a good source of anti-oxidants and bananas contain potassium, vitamin B6, vitamin C, Magnesium, copper and Manganese.
Ingredients
3 Bananas, chopped into chunks and frozen until solid
200g of frozen raspberries
Coconut milk from a tin – refrigerate the tin overnight and remove the solid fat from the top. This is used to create the coconut cream.
Method
Place the frozen bananas, raspberries and coconut milk in a high power blender and process until you have the consistency of soft serve ice cream. You will need to stop processing and mix the ingredients during the blending to ensure all the fruit is properly pulverised.
Place into sundae glasses.
Using an electric mixer, beat the solid coconut milk until you have a cream like consistency. Then use to top the ice cream.
You may also like…
Click and slide through to find a recipe that might tickle your fancy.