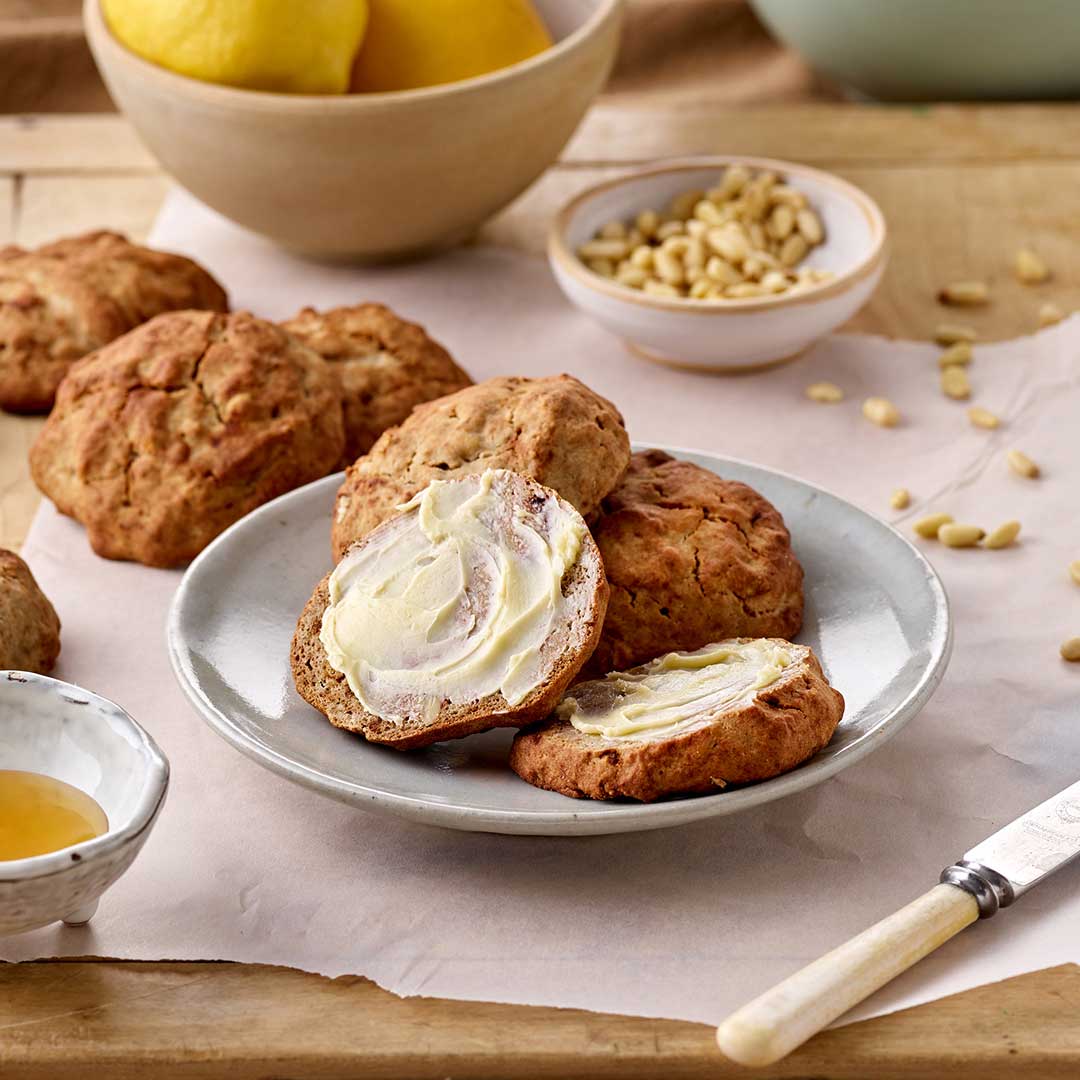 Buckwheat Honey Scones
Overview
A lovely recipe from Doves Farm, these are delicious scones made with buckwheat flour and local Bovey Tracey honey. They elevate the basic scone to a healthy and delicious treat for breakfast or afternoon tea.
Top Tip
The flour and honey are available in Bovey Larder. You can also make these scones vegan by using vegan honey or maple syrup instead.
Ingredients
200g Doves Farm Organic Wholemeal Buckwheat Flour
1 tsp of Bicarbonate of Soda
4 tbsp Bovey Tracey Honey
1 tbsp Honest Toil Olive Oil
1 Lemon, grated rind and juice
2 tbsp Pine Nuts
tepid water
oil, for tray
Method
Pre-heat the oven to 200°C, Fan 180°C, 400°F, Gas 6.
Grease a large baking tray with some of the oil.
Combine the  flour and bicarbonate of soda into a bowl and then sieve into another bowl.
Add the honey and oil to the flour, then using a fork, blend everything together until the mixture resembles breadcrumbs.
Grate the lemon rind into the bowl, add the pine nuts and stir to combine.
Squeeze the lemon into a jug and add water to make a total of 150ml of liquid.
Pour the liquid into the bowl and gently stir to make a soft mass of dough. Avoid overmixing.
Quickly spoon the dough into 9 round piles on the prepared baking tray.
Gently tease the piles of dough into circles and brush the tops with water.
Bake for 15-20 minutes.
You may also like…
Click and slide through to find a recipe that might tickle your fancy.