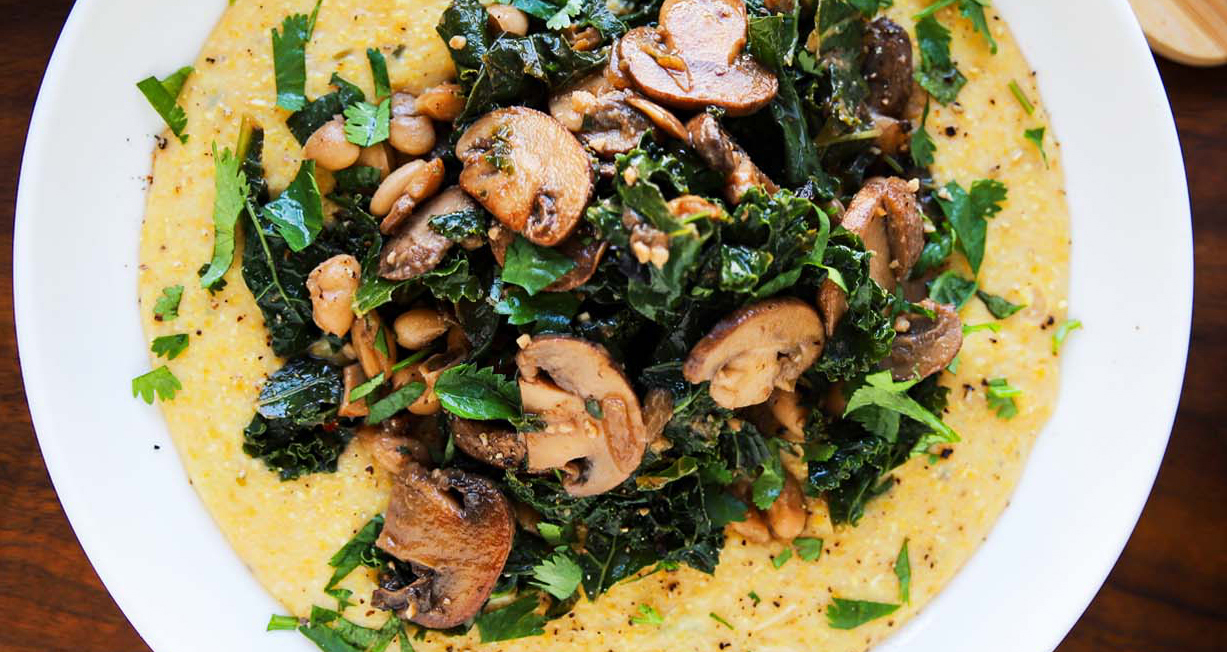 Creamy Cheesy Polenta
Overview
We now have polenta in stock, thanks for the suggestion. Polenta, a traditional Italian peasant food, is a complex carbohydrate and a great alternative to refined carbs which can help you feel fuller for longer and provide energy throughout the day. It is also gluten free.
Polenta is a new ingredient to me, so last night I tried it on the family.
The following recipe is based on a Deliciously Ella recipe with a few Bovey Larder tweaks. The 150g of polenta will cost you 18p!
Top Tip
This recipe can be made using nutritional yeast to give a vegan cheesy taste or parmesan for an Italian vegetarian version. Patrick, my meat-eating son, topped his with bacon!
Ingredients
Polenta
Mushrooms
Kale
Method
1. Preheat your oven to 190C (fan 170C).
2. Remove any tough stems from the kale and place on a baking tray, drizzle with olive oil and sprinkle with salt. Bake the kale for around 20 minutes until it is crispy.
3. Heat a tablespoon of olive oil in a frying pan and add the sliced mushrooms and sauté. Once cooked, keep warm until the polenta is cooked.
4. Boil 1 litre of water in a large saucepan. Once it is boiling, turn down the heat to a simmer and, stirring all the time, slowly pour in the polenta. Keep stirring for a few minutes until you have a thick, lump free mixture.
5. The polenta now needs to cook until it is smooth and creamy. It will need stirring regularly to prevent it from sticking to the bottom of the pan. Add a splash of water if the polenta becomes too thick. This should take about 30 minutes but can vary depending on how fine the polenta is. Be careful as it can bubble up explosively! As a guide, when cooked, a spoonful of polenta should slip slowly off the spoon, back into the pan and is creamy in texture and not at all gritty.
6. Once everything is cooked, add salt, pepper and a slug of olive oil to the polenta, then stir through parmesan or nutritional yeast.
7. Pour the polenta into individual bowls, top with mushrooms and crispy kale. Enjoy!
You may also like…
Click and slide through to find a recipe that might tickle your fancy.