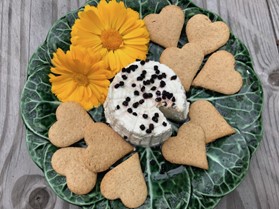 Lemon Biscuits
Overview
These lemon biscuits were created to serve with my vegan almond and elderflower ricotta, but can be eaten on their own or with other deserts. The biscuits were inspired by a Mirander Gore Browne recipe, but modified to remove the processed white sugar, honey and replaced the oranges with lemons to mirror the lemons in the elderflower syrup, which is in the ricotta.
Top Tip
This recipe makes about 40 small biscuits, I cooked half of the dough and froze the remainder to make cookies another day.
Ingredients
Creates 40 Biscuits
50g rolled oats
250g wholegrain flour
1tsp baking powder
Juice and grated zest of one lemon
60ml extra virgin olive oil
50g coconut sugar
2 tbsp brown rice syrup
Pinch of salt
2 tbsp of oat milk
Method
Using a food processor or blender whizz the oats until finely ground.
Add the flour and baking powder to the oats.
In a separate bowl, combine the juice and zest of the lemon, olive oil, coconut sugar, brown rice syrup and salt. Mix until coconut sugar is well combined.
Add the liquid to the oats and flour. Combine until you have a firm dough, if the mixture is too dry add a tbsp of oat milk to create a firm dough. You may need less or more than the 2 tbsp of oat milk.
Divide the mixture in half and create two flat balls of dough. Wrap in a bees wax wrap and chill for 30 minutes.
Preheat the oven to 180°C (Gas mark 3) and line two baking trays with non-stick parchment.
Place the chilled discs between two sheets of baking parchment. Roll the dough to 4 mm thickness and using a biscuit cutter stamp out shapes and place on the baking tray.
Bake for 12 minutes until golden and then transfer to a wire rack to cool.
You may also like…
Click and slide through to find a recipe that might tickle your fancy.