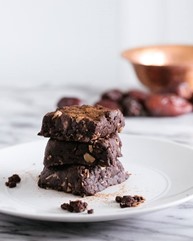 Raw Cacao and Almond Brownie Bites
Overview
The brownie bites are based on a Deliciously Ella recipe and are sweetened with dates and a small amount of brown rice syrup.
Top Tip
As with all desserts this is a treat and is still high in natural sugars and should not be eaten every day!
Ingredients
250g pitted dates
125g almonds
3 tbsp cocoa
2 tbsp brown rice syrup
Method
Add all the ingredients into a food processor and process until it forms a sticky ball. You will still see flecks of white almond bits but this gives the brownie texture.
Either roll into small balls or press into a tin, it does not have to completely fill the tin, you should get a rectangle of about 20 cm by 15 cm.
Chill for 3 hours.
If you have not created balls, cut in small squares ready to sprinkle on sundae. Store in fridge. The left over pieces can be eaten as brownie treats, delicious with coffee.
You may also like…
Click and slide through to find a recipe that might tickle your fancy.