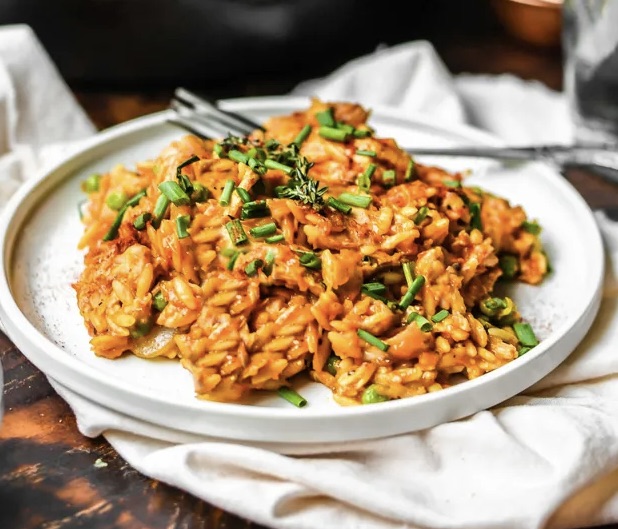 Roasted Red Pepper Orzo
Overview
I love this easy supper using Italian orzo as an alternative to pasta, it is based on a Deliciously Ella recipe and is vegan and healthy.
Top Tip
Orzo, also known as risoni, is a form of short-cut pasta, shaped like a large grain of rice. Orzo is traditionally made from flour, but it can also be made of whole grain. It is often made with semolina, a type of flour made from durum wheat. You could also use any pasta for this recipe.
Ingredients
300g of Orzo
1 x 170g Jar of Roasted Red Peppers
100g of Cashews
1tsp of Garlic Powder
1 small Red Onion
3.5 tbsps of Honest Toil Olive Oil
1 Lemon
100ml of Minor Figures Oat Milk
2 x Courgettes
Handful of Wild Garlic
Pink Himalayan Salt
Method
Create the roasted red pepper sauce. Place the red peppers into a food processor or powerful blender. Add the cashews, olive oil, juice of the lemon and salt. Blend until smooth.
Add the remaining olive oil to a pan, warm and then add the onions and courgettes. Cook until softened and then add the wild garlic. Once it has wilted add the red pepper sauce and cook for 5-10 minutes.
While the sauce is cooking, add the orzo to a pan of salted boiled water and simmer until tender.
Drain the orzo and combine the with the sauce, ensuring everything is heated through. If the sauce is a little think slowly add the oat milk until you have a consistency of your liking.
Serve and enjoy.
You may also like…
Click and slide through to find a recipe that might tickle your fancy.