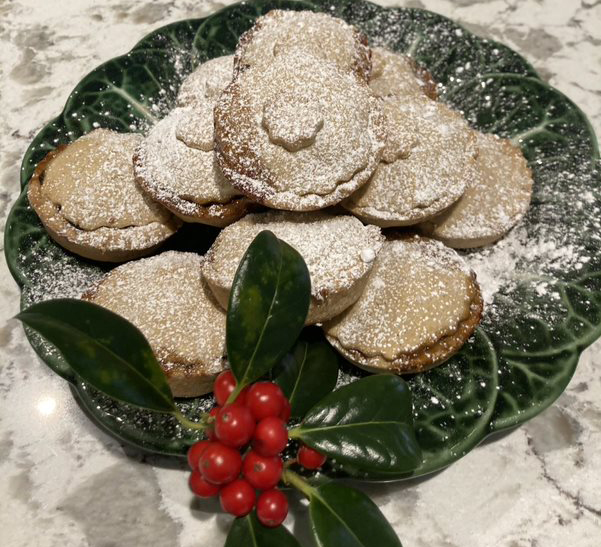 Vegan Mince Pies
Overview
Make these eco-friendly vegan mince pies, not only do they taste better than shop bought mince pies but they also avoid all the packaging. Just remember the fruit needs soaking the night before making the mince pies.
Top Tip
Flavour the mincemeat with other alcohols such as rum, gin or even Baileys to create a different boozy mince pie.
Ingredients
Vegan Mince Pie Filling
300g of Mixed Dried Cake Fruit with Peel
2 Eating Apples – grated
Juice of 1 Orange
Juice of 1 Lemon
120ml of Maple Syrup or Vegan Honey (or Bovey Honey for non-Vegans)
1 tsp of Mixed Spice
60ml of Brandy
Vegan Pastry
250g Reclaim the Grain Population YQ White Wheat Flour
125g Icing Sugar
125g Vegan Spread
2 Tbsp of Minor Figures Oat Milk
Pinch of Pink Himalayan Salt
Pinch of Organic Ground Cinnamon
Method
1.Put all the filling ingredients in a large bowl, cover and leave the mixture overnight or for at least 12 hours. Any left-over mixture can be stored in a sterilised jar in the fridge for two months.
2.Once the filling has marinated and you are ready to make the mince pies, make the pastry. Preheat the oven to 180°C. Mix the flour, salt, sugar and cinnamon in a mixing bowl. Run in the vegan spread until you have a breadcrumb consistency.
3.Add enough of the two tablespoons of oat milk to bring the mixture together and form a ball of dough. Kneed for 2 minutes and then place in the fridge to chill for 25 minutes.
4.Roll the pastry out on a floured surface and cut out circles to fit your greased pie tin. Place in the tin and top with about a teaspoon of filling mixture. Cut another circle or shape and place on the filling.
5.Sprinkle with caster sugar and bake in the over for 12-15 minutes or until golden.
You may also like…
Click and slide through to find a recipe that might tickle your fancy.