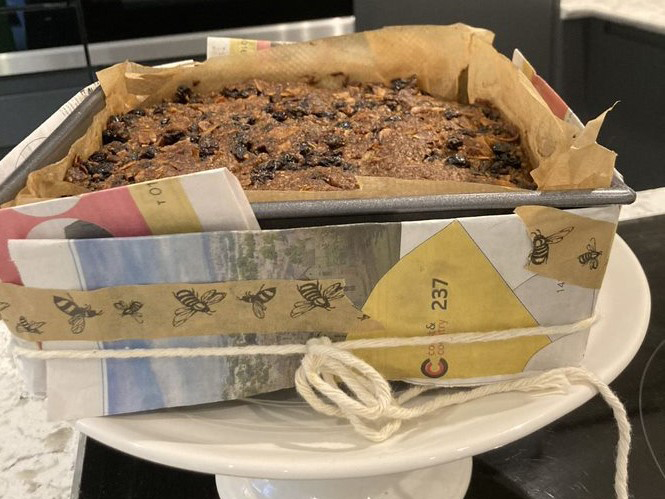 Vegan Christmas Cake
Overview
Christmas is about tradition, and there is nothing more traditional than a Christmas cake and it is definitely something that tastes just as good when you use a plant-based recipe.
Top Tip
We have lots of lovely dried fruit, nuts and cinnamon sticks which make pretty decorations when heaped on top of the Christmas cake. Glaze with apricot jam, loosened with warm water to give a glossy finish.
Ingredients
1kg of Mixed Dried Fruit (I used 800g of mixed cake fruit with peel and 100g of diced dried pineapple and 100g of chopped dates). Bovey Larder has lots of dried fruit and you can choose to use a mix of raisins, sultanas, currants, cherries, cranberries, prunes, dates and figs.
Zest and Juice of 1 Orange
Zest and Juice of 1 Lemon
150ml of Brandy, plus extra for feeding the cake up until Christmas
250g of Coconut Oil
200g of Soft Light Unrefined Cane Sugar
4 tbsp of Chia Seeds
175g of Plain Flour
100g of Ground Almonds
½ tsp of Baking Powder
2 tsp of Mixed Spice
1 tsp of Ground Cinnamon
100g of Flaked Almonds
1 tsp of Vanilla Extract.
Method
Put the dried fruit, zests and juice, brandy, coconut oil and sugar into a large pan and bring to the boil over a medium heat. Lower the heat and simmer for 5 mins until the sugar has dissolved. Tip the mixture into a large bowl and leave to cool for 30 mins.
Heat your oven to 150C/130C fan/gas 2. Line a deep 20cm cake tin with a double layer of baking parchment, then wrap a double layer of newspaper around the outside, tying it with string to secure. This will ensure you do not have a burnt Christmas cake.
1. Mix the chia seeds with 150ml water. This is your vegan egg and will bind your ingredients together. Leave to sit for 5 mins until gel-like and thick.
2.Once the fruit has cooled for 30 minutes, add all the other ingredients. Stir well to ensure there are no pockets of flour and the chia seeds have been evenly distributed.
3.Tip the mixture into your lined tin and smooth the top with a spoon. Cook in the centre of the oven for 2 hours.
4.Remove the cake from the oven. Using a skewer make holes in the top of the cake and drizzle with 2 tbsps. of brandy. This is the cake's first feed.
5.Once the cake has cooled, remove from the tin and wrap in a wax wrap. Feed the cake with 1-2 tbsp of brandy every fortnight. Don't feed the cake the final week before you ice, to give the surface a chance to dry out.