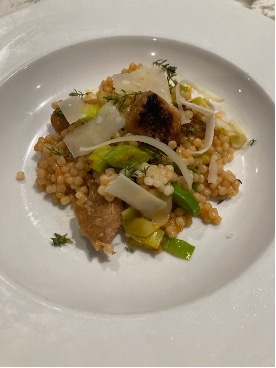 Warming Fregola with Sausages and Leeks
Overview
On a cold night this cosy recipe, based on a traditional Sardinian dish, is perfect. We used vegetarian sausages, but meaty sausages are more traditional. Fregola is a small pasta from Sardinia or Bovey Larder! A great base for pasta sauces, soups, or salads.
Top Tip
Top Tip – We used leeks as that is what we had! Adding mixed mushrooms is more traditional.
Ingredients
200g Fregola
8 Sausages of your choice – chopped into bite size pieces
225g of Leeks
2 tbsp. Tomato Paste
2-3 tbsp. Dry White Wine
30g Parmesan Grated
1 tbsp. Honest Toil Greek Olive Oil
1 Sprig of Thyme
1 tsp of Garlic Powder
Pink Himalayan Salt
Method
Heat the olive oil in a large frying pan. Add the sausages and cook until done and nicely brown. Add the garlic powder and thyme. Remove the sausages from the pan.
Add the leeks to the pan and sauté until cooked and slightly browned. Remove and add to the sausages.
Toast the fregola in the same pan for about a minute.
Add the white wine and stir until most of the wine has evaporated.
Put a pan of salted water on to boil.
Once the water has boiled, turn the heat down to medium.
Add one cup of the salted water to the fregola, stirring continually. Once the fregola has absorbed the water, add the next cup of salted water. Keep stirring and adding the water, as you would do when making a risotto. It should take about 15 minutes for the fregola to be al dente.
Remove from the heat, add the tomato paste and parmesan cheese.
Add the sausages and leeks.
Garnish with shavings of parmesan.
You may also like…
Click and slide through to find a recipe that might tickle your fancy.